Already have your own website and domain? Adding links to your web ordering page(s) should be quite easy for you or your web developer.
Most websites will have a portal that you can use to manage the content on the site. Either you or your web developer can add a link that opens your web ordering page in a separate tab.
There are a few places where your site can be updated to include a link to get customers onto the web ordering site.
1. Bopple button, anywhere on your site
Mostly useful for venue partners that have standard (unbranded) listings on Bopple, we have provided an Order Online button that can be easily copied and pasted into the HTML when editing your website.
Please sign in to my.bropple.com to get your own unique code snippet. See below for guidance on where you can access it.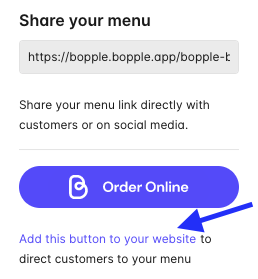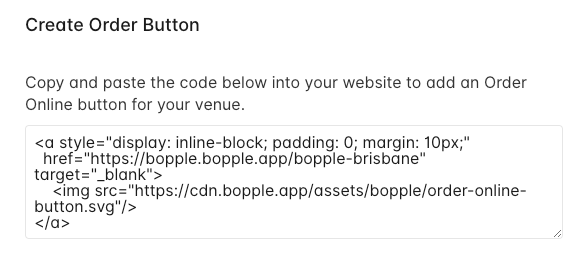 2. Site navigation / main menu
Add a button to your main website menu so visitors can quickly access your web ordering page.
If you have a branded app, use your homepage: yourbrand.bopple.app
For standard (unbranded) Bopple listings: bopple.app/menu/[venue-id]
If you have multiple sites but do not have a branded app, please get in touch so we can provide you with a link that will take users to a filtered list of your venues.
Examples
ORDER on theyirosshop.com.au

ORDER ONLINE on cheekypokebar.com.au
ORDER ONLINE on bellabrutta.com.au
3. Location info (multi-site)
If you have multiple locations and provide a listing for each on your website with address and store hours etc, this is a great place to add a link to each specific venue menu page.
If you have a branded app: yourbrand.bopple.app/menu/[venue-id]
For standard (unbranded) Bopple listings: bopple.app/menu/[venue-id]
Examples:
PICKUP section with links to each venue menu on nododonuts.com



Order Online buttons for each venue listing on pawpawcafe.com.au