This article outlines everything you need to know about the Orders Dashboard.
Order Appearance
Order Information
Order Dashboard Overview
Order Appearance
🗒️ When a customer places an order it is automatically submitted to your Orders Dashboard.
Each order will contain:
Customer phone number ☎️
Order code (4 characters) 💻
Order time since placed ⏱
Customer name 🧑
Order type 🥡 (pick up, delivery, table order)
Items ordered 🍔
Order Information
⚡ Want to find out additional information of the order? Select the ℹ️ icon on the top left corner of the order.
By clicking this icon it will display:
The order number 💯
The time⌛️
The date 📅
The total price along with any discounts that may have been applied 💲
You will also have the option to reject the order from here 👎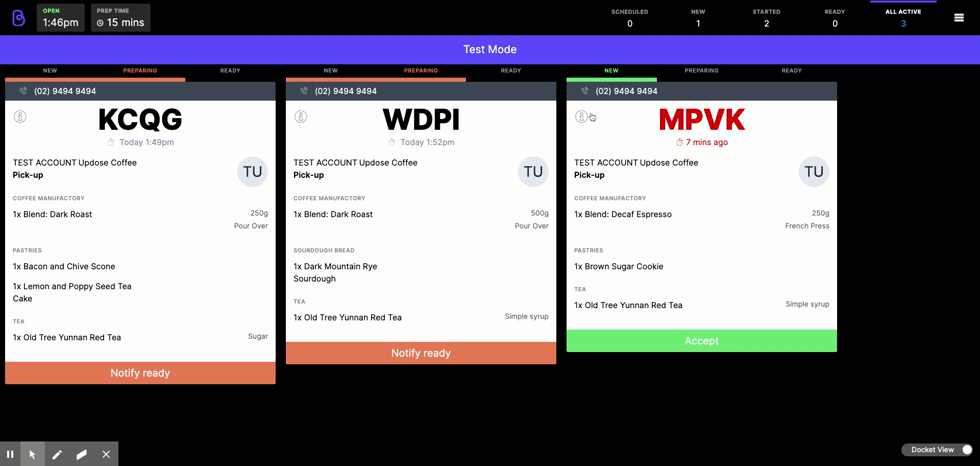 Order Dashboard Overview
🗒️ Your dashboard will give you an easy to view breakdown of current orders.
Order Statuses
You will find on the top right of the dashboard a summary how many orders are:
Scheduled 🗓️

New 🆕

Started 🚦

Ready ✅

All Active 📝
⚡ This provides staff an accurate overview allowing them to make decisions on how to manage the workload during service. Giving them the power to adjust prep time or close service while the kitchen or bar catches up.
Need to close service?🚫
Click the time on the top left corner. This will open a window and allow you to close service until you are ready to start taking orders again ✅
To reopen service, simply follow this same process 🎉
Need to adjust your preparation time? ⏰
Select prep time from the top left and adjust accordingly.
Select update.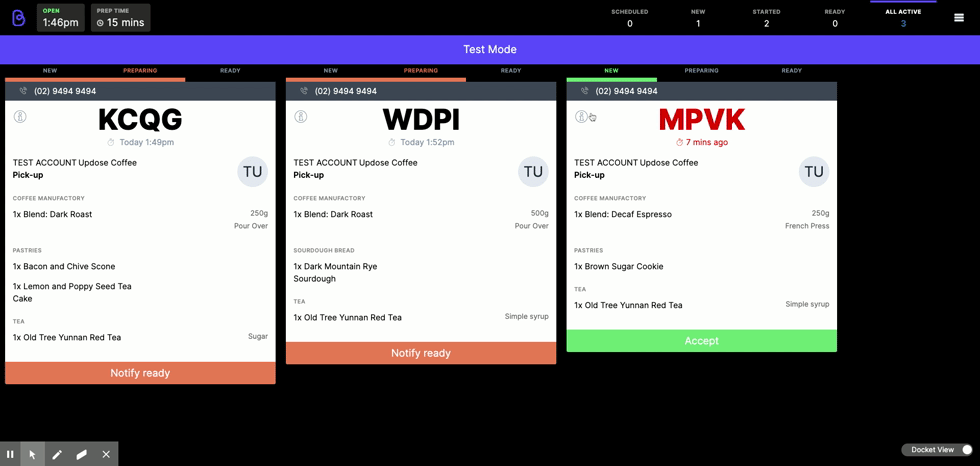 ⚡ For venues using the dashboard in conjunction with an Epson TM-m30/31/31 once the order is accepted the docket will print at the kitchen or bar. For instructions on how to setup and connect your printer click here 🖨