This article outlines how to start your subscription with Bopple; allowing you to get online and taking orders.
🗒️ Bopple will pro-rata the first subscription to align with billing on the 1st of each month.
⚡️ Note for all Lightspeed Kounta POS systems, to enable Lightspeed Ordering Advanced, head to this link here
Clear, honest and affordable pricing.
Our pricing is simple and clear. One plan, one monthly price.
No commitment, no upfront fees.
$49/month
Competitive fees of 1.8% per order (this can be discounted based on order volumes. Contact us if you are processing in excess of $40k per month).
Card processing fees of 1.6% per order (this can be passed on to the customer)
Go to your Venue Manager here and start at the Billing section.
Select Subscribe Now
Select Proceed to Checkout
Enter email
Enter card details
Review the Terms of Use and Privacy Policy
Select Start Subscription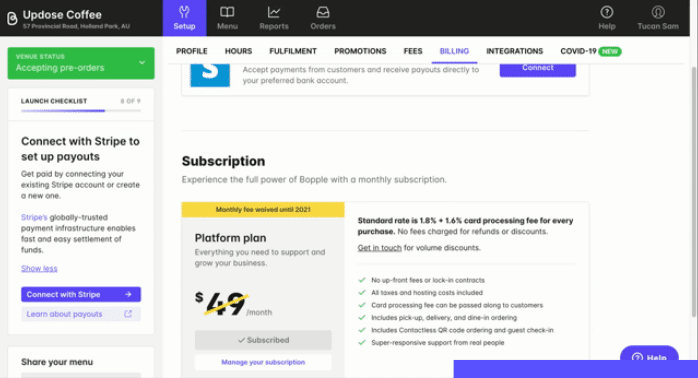 Congratulations! You have started your subscription.