Building your menu in Bopple allows you to be in control of what you offer and how you offer it, allowing a seamless and intuitive experience for your customers.
🗒️ We have broken this article down in a table of contents and by showcasing GIFs to help you out.
Categories
⚡ What type of items do you sell at your venue? Do you sell flat whites? Cheeseburgers? Margherita pizza? These are the types of items that will help you decide what categories you create.
Create a coffee category if you sell coffee, burgers if you sell burgers and pizza if you sell pizza. This makes it easier for your customers to navigate your online menu.
From the left hand sidebar select Edit Menu. This takes you to the Menu section of Venue Manager.
To create a Category (such as, Hot Beverages, or Coffee) follow the below steps:
Select Categories
Select + Create Category
Enter the Product Category Name (e.g. Coffee)
Select Parent Category (e.g. Drinks)

Select New Parent Category in Drinks
🗒️ Repeat these steps to create additional categories that are relevant to your menu offering.

Modifiers
🗒️ Modifiers are items within a product that allow your customers to customise their order by adding or removing ingredients and extras.
Using the default Modifier Set
🗒️ By default a Modifier Set called Select From is created to support variable pricing. This Modifier Set is useful for products that require variable pricing for sizes such as coffee products, catering items, or pizza.
To create modifiers within the default Modifier Set
Select Modifiers from the Menu

Edit the name of the modifier by selecting the Modifier Set Name text field
If using for product sizes of all kinds (pizza, coffee, etc) edit the text to Size
To add your product sizes select Expand
Select +Add Modifier
Enter your Modifier name (e.g. small)

Select Save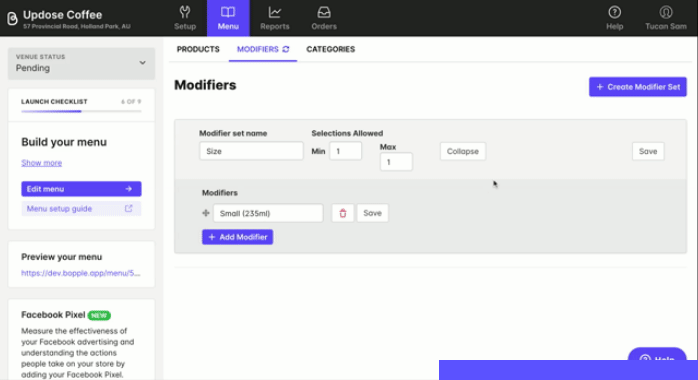 🗒️ Repeat these steps to create additional size options that are relevant to your menu offering.
Creating your own Modifier Set
Select +Create Modifier Set

Enter the Modifier Set name (e.g. milk)


Enter Minimum Selection

Set as 0 as not all coffee products require a milk option

Enter Maximum Selection

Set this as 1 as no coffee product requires more than 1 milk option

Select Create Modifier Set
This will have created a Modifier Set named 'Milk'.

Adding Modifier options
Select expand and +Add a Modifier


Create a modifier item such as Full Cream

Select Save.
Repeat this step until you have added your modifier options.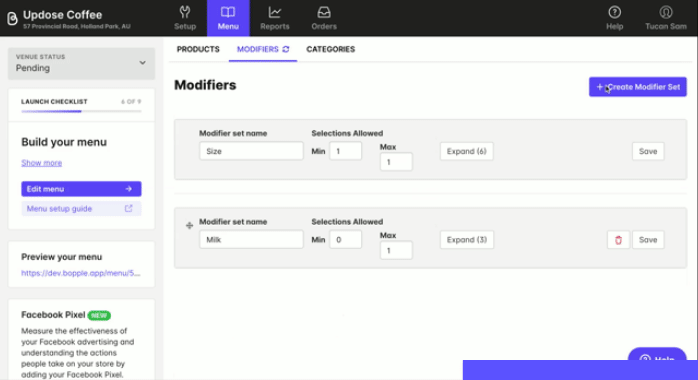 🗒️ Follow the steps Creating your own Modifier Set and To Add modifier options in order to create all of your modifier sets and options that you offer.
Creating Products
Now that you have created all of your Modifier Categories and Modifier Sets and Options you can now create your products.
Select Products
Select Create Product

Enter name of product
Select the category relevant to the product
Upload an image
⚡ Adding your own product images entices customers to find out more. To upload your own product image select the image by following the prompts.
Adding common products like Flat White will allow you to assign a default stock image.
Add a description of your product
Prep Time
🗒️ This function will eventually not be supported.
🗒️ Green toggle = in stock
🗒️ Grey toggle = out of stock
🗒️ Single Price configuration is for products that are not using the default modifier set that was created upon sign up. E.g. you are selling a Bacon and Chive Scone that does not differ in size or price - $8 = Single Price use.
🗒️ Enabling Variable Price will drop down the default Modifier Set, in this instance, named Size. From there you can start typing in the modifier options you had created.
Once you have added your modifier options to the product select the $value to the right and enter the value of the modifier option.
Add Modifiers

To add your custom modifiers simply select Choose Modifier Category and select the modifier you would like to add to your product.
🗒️ Once you have selected your modifier you will need to enter the prices relevant to those modifier options by selecting the right hand side $value column.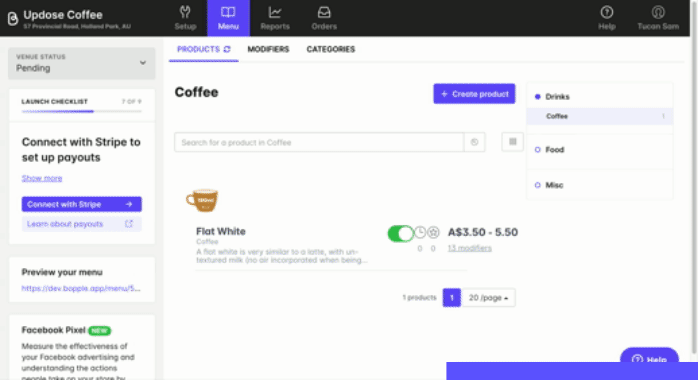 Once you have added all the necessary product and modifier information select Create Product.
---
Here is a GIF on how to create Single Price food products by following the steps above.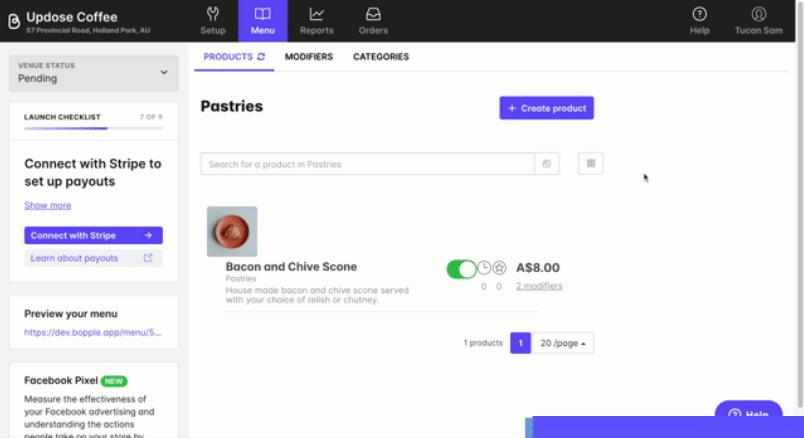 Congratulations, your first product has been created. Follow the above steps to complete your menu.