Unlock upfront revenue and attract new customers with effortless digital gift cards, simple to purchase, share, and redeem online.
🎁 Built-in to your online ordering experience
🎁 Effortless setup in a single click
🎁 Captures upfront revenue and guaranteed spend
🎁 Auto-generated and emailed to recipient
🎁 Easy redemption via online checkout
🎁 No added fees or charges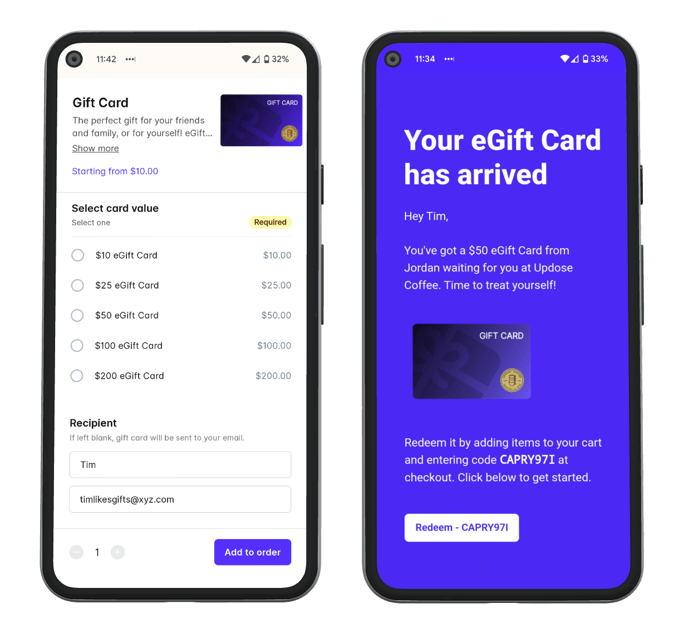 Simple experience for you and your customers
Buy it
When the feature is enabled a new Gift Card category and product is automatically added to the top of your online menu making it super easy for customers to find. Customers can select from popular pre-set gift card values and add the item to their cart.
Share it
Whether it's a gift for a friend, family member, or themself, the customer can add their desired recipient during checkout and the system will send an automated gift card email once the purchase is completed. No need for you to manually create promo codes and contact customers - this all runs on auto-pilot!
Redeem it
The automated gift card email includes a unique gift card code and a link to your online store so all the recipient needs to do is tap a button and start adding items to their order. The gift card code can be redeemed in your Bopple-powered online store or mobile app, and can be used on as many orders as the recipient likes until the value is spent.
Enable Gift Cards today
Go to Bopple Back Office ➜ Store Settings ➜ Add-ons
Click Enable on the Gift Cards add-on
Confirm you are ready to start selling Gift Cards
That's it - you're good to go 🎁
More questions?
Learn more about the customer experience, how to sell Gift Cards, and how Gift Card reporting works in our Gift Card FAQs