Learn how to run a smooth delivery service from accepting orders all the way through to driver hand-off and customer delivery.

Bopple is the underlying technology that powers your online store and allows you to connect with the DoorDash driver network for fulfilment of your delivery orders. When you elect to use DoorDash Drive in your online store, your delivery service is entirely your own to run and manage, just like your online store.
Shortcuts
Getting setup
You can turn DoorDash Drive on with the click of button, but there are some important additional settings you'll want to use to optimise your delivery setup for the best possible experience.
Adding pick-up instructions for partner drivers
Setting up a dynamic delivery fee
Se

Running a smooth delivery service
Accept new orders to request driver pick-up
Orders are only sent to DoorDash once you ACCEPT them in the Bopple Orders Manager or in your integrated point-of-sale. If an order is not marked as accepted or in-progress, it will not be sent to DoorDash.
Understand how drivers are requested
ASAP deliveries ➞ Driver pick-up time is requested based on the prep time you assign on each order. For example, if you accept an order at 6:00pm and your prep time is 20 mins, a driver pick-up will be requested for 6:20pm. The DoorDash system will respond with an estimated pick-up time, which should be close to the requested time.

Scheduled

deliveries ➞ Delivery time is requested using the delivery time selected by the customer. The DoorDash system calculates the appropriate driver pick-up time based on the delivery address and responds with an estimated pick-up time.



If you use Order Limiting, all of your delivery orders will be scheduled orders.
Ensure orders are ready for the driver arrival time
It's important you and your team are monitoring driver arrival times in case of any changes that mean you might need to adjust how quickly you are preparing an order.
♨️ Food is hot and fresh ➞ happy customers and delicious food
💯 Minimal driver wait times ➞ happy drivers and higher delivery acceptance rates
Keep the Orders Manager accessable in-store so your team can monitor driver arrivals.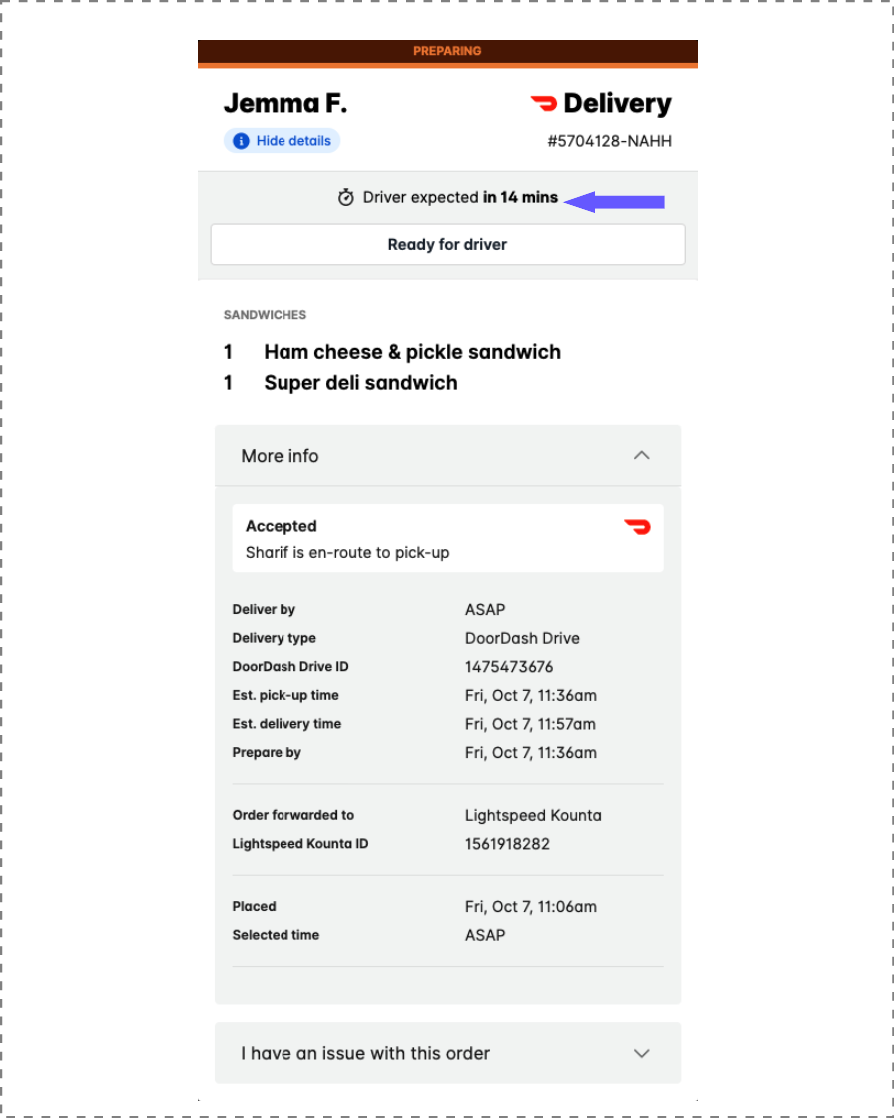 Make pick-up a breeze
Designate and clearly mark a pick-up area for drivers arriving in-store. Any additional signage you can add to direct drivers to the pick-up area is also highly beneficial (especially if you're located inside a precinct or shopping centre).
Label every order to make it easy for drivers to verify they have collected the right order. You can use the customer name and the Bopple order code (your DoorDash drivers will have access to this info when they come to collect the order).
Make sure your staff are well versed in the delivery offering and how to manage drivers when they arrive in-store to pick-up orders.

Dealing with delivery service issues
You're responsible for managing your delivery service and any customer enquiries that might arise throughout the process of a delivery order.
DoorDash Drive provides 24/7 support to merchants. You can contact them from within the Bopple Orders Manager ➞ I have an issue with this order
DoorDash Support

📞 1800 958 316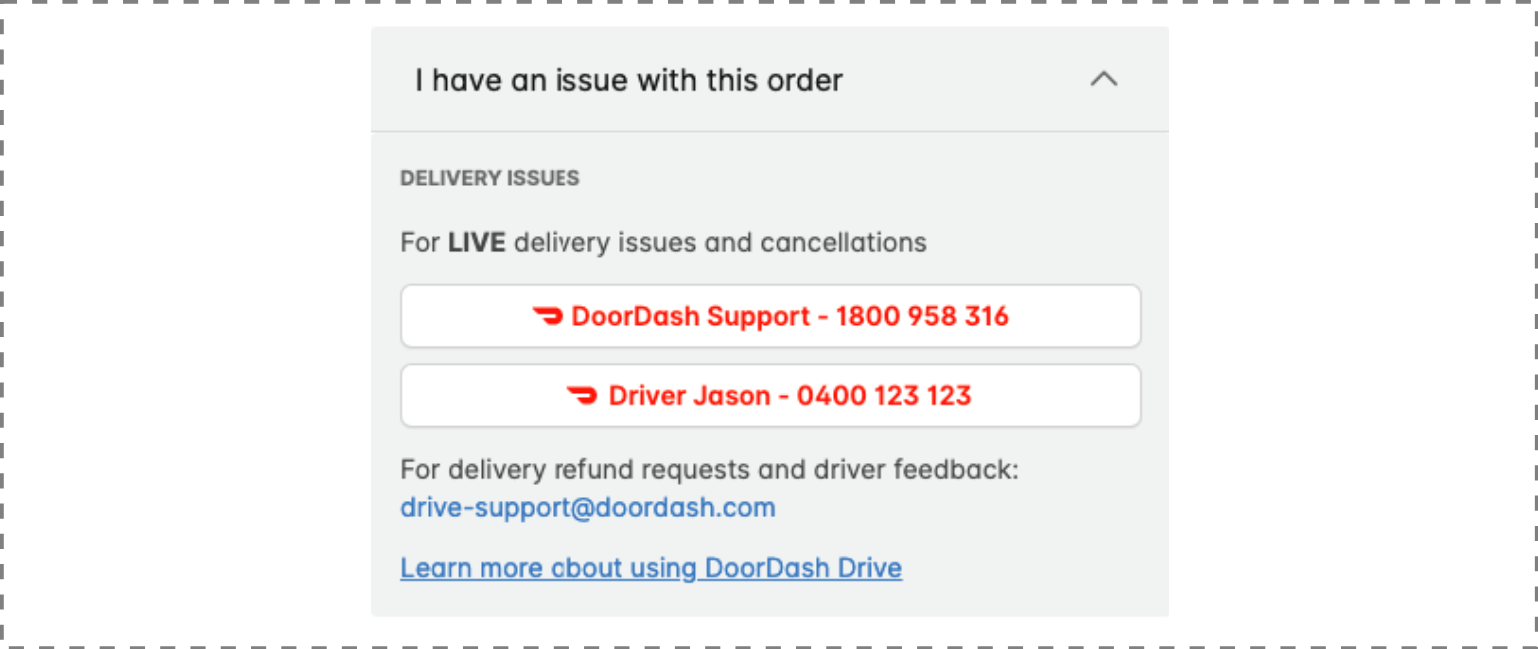 Issue
Actions
Cancel a delivery
📞 Store calls DoorDash Support
Driver running late for pick-up
📞 Store calls Driver (via Orders Manager)
📞 Store calls DoorDash Support
Driver running late for delivery

📞 Customer calls Driver
📞 Store calls DoorDash Support

Delivery not received
📞 Store calls DoorDash Support
Delivery feedback or complaints
✉️ Store sends email to drive-support@doordash.com
Driver feedback or compliments
✉️ Store sends email to drive-support@doordash.com

DoorDash refunds
Any issues with delivery that result in wastage, orders being remade for re-delivery, or the need to refund or compensate a customer need to be escalated to DoorDash.
You must contact DoorDash within 14 days of the delivery date to be eligible for a refund.
Each case will be reviewed by DoorDash using their issue matrix.
If any refund of fee or order value is due to the merchant, this will be included as an adjustment against your store's fees on the invoice Bopple receives from DoorDash each month.
Any positive balances will be resolved by Bopple periodically. If you have any questions on this please contact us.