Congratulations, you've created your Bopple online store and are ready to take orders. Now, let's make sure your online store looks its best and you can make the most out of Bopple.
---
1. Make sure your menu looks great 📸
Smart Upsells, one of our most powerful and revenue-generating features requires photos to work its magic. Humans eat with their eyes, and having a visually appealing menu is proven to boost sales by up to 30%.
Need professional photography for your venue? We've partnered with Snappr, the world's biggest on-demand photography platform. Book your next shoot here.
Check out these menus for inspiration:
---
2. Don't miss out on the benefits of enabling QR table ordering
Going all in (100% online ordering):
Choosing this way of implementation has some big benefits around increasing revenue and operational efficiencies, plus allowing every order to be linked to a customer, gives you a deeper understanding of customers. However, we understand this doesn't suit every style of venue or operator.
Hybrid:
You encourage your customers to order from their tables as the default method of ordering, but also allow them to order from the bar, counter or with your wait staff - whichever they prefer.
Driving your dine-in customers to order online is easy. You can generate QR codes to display on your signage, like the "skip the queue" sign at Darvella Patisserie. For your Dine-in customers, have them order online at the table using our premium acrylic branded QR pucks. Here are some of our favourites 👇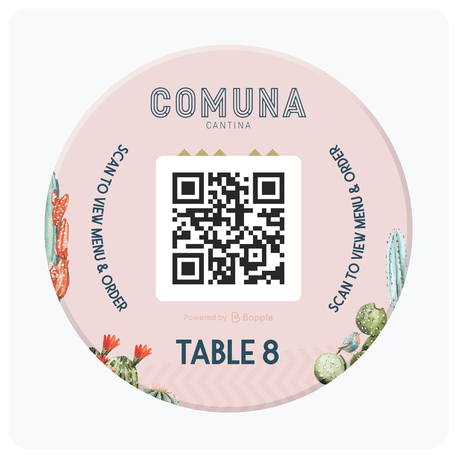 Your customers send you orders from the web through any browser (desktop or mobile), and from our apps on iOS and Android. Below are some benefits of customers ordering through the Bopple web app:
Go direct to your online store (see below for info on getting your shareable URL)
Customers can order quickly when placing an order through QR codes
Guest checkout
Pay and submit an order using Apple Pay and Google Pay
---
Create your unique and shareable URL
Every venue listing has its own unique URL that you can share in different ways. Give this link to your customers and followers so they can go directly to your menu and immediately start building their orders.
Where do I get my shareable URL?
You can find your shareable URL in the Profile and Branding section in Bopple Back Office.
---
3. Share your online store
Anywhere your customers or potential customers are likely to see it!
Update your Instagram "link in bio" with your Bopple Bio page
Run targeted ads to any of your custom audiences announcing online ordering
❗️Need help running social media ads for your venue? Check out this blog article for tips on how to run Facebook Ads for your business.
By far the easiest way is to put the link to your online store in your venue's Instagram, TikTok, and Facebook bio. You can then finish all of your posts with a call to action: "order now for pick up, follow the link in our bio!" Small's Deli is a great example of how to promote your store through Instagram posts. Adding a link to your menu in stories is another easy way to promote your online store.
Include special offers to encourage people to try the new ordering experience (how to create a discount/promo code)

Offer for new customers
Offer for nearby businesses
Offer for regulars and favourite customers