Ensure you are covering costs while unlocking the additional reach and revenue that comes with offering delivery.
Video walkthrough
Watch a quick video for everything you need to know about delivery fees.

Delivery fee types
You have total flexibility to customise the delivery fee you charge customers. Every business is different, so choose the delivery fee structure that works best for you and your customers.



Fixed Fee
Charge a flat fee on all delivery orders. Ideal if you are looking to keep things simple, especially if you're only offering delivery over a small delivery area.


Partner Fees
✨ Recommended if you use a Delivery Partner
Automatically pass on the delivery fee quoted by your delivery partner, which is typically calculated based on the driving distance between your store and the customer's delivery address. Optionally cover a small portion of the fee on each delivery to subsidise direct delivery.

Example: The delivery partner quoted fee for an order is $14.00, and you have opted to cover $1.00 per delivery to keep fees low when customers order direct. The customer would pay a $13.00 delivery fee.

Distance Fees
✨ Recommended if you run In-House Delivery
Charge a dynamic delivery fee based on the delivery distance, measured in a straight line between your store and the delivery address. Set a base fee and the distance over which it applies, then specify the incremental fee that applies per km for deliveries to addresses further away from your store (up to your maximum delivery distance).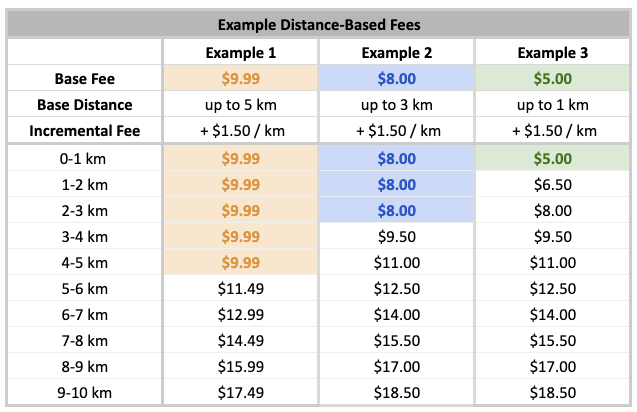 Set up your delivery fee
You're in full control to manage your delivery fee at all times via Bopple Back Office.
Go to Back Office ➞ Store settings ➞ Fees
Click + Add Order Fee
Select Delivery fee as the description
Select your preferred delivery fee type
Based on the fee type you select


For Fixed fees, set your fee value
For Delivery Distance fees, set your base fee, base fee distance and incremental fee
For Delivery Partner fees, optionally set the amount you will cover per delivery
Questions?
See the video demo above for a full walkthrough, or start a live chat below to speak with one of our team.