Guiding your delivery partner drivers on what to do when they arrive will provide a better experience for your team, your drivers, and ultimately your customers.
If you're using a delivery partner, like DoorDash Drive for example, your store address will be provided to the driver any time they come to collect a delivery order.
Sometimes there's a bit of extra info that you might want to give them to ensure they can seamless arrive and pick-up orders, without any hassle for your team or the driver, and without any delays for your customer.
Extra info that can be helpful to share with partner drivers
How to access your store from the road
Where the best place to park is
How to find the store entrance
Whether you have a dedicated pick-up zone
What drivers should do once they are in-store

Add driver pick-up instructions
Go to Store settings ➜ Fulfilment ➜ Configure Delivery ➜ Delivery Partner Settings
Expand the Delivery Partner Settings section
In the Driver pick-up instructions section, add your instructions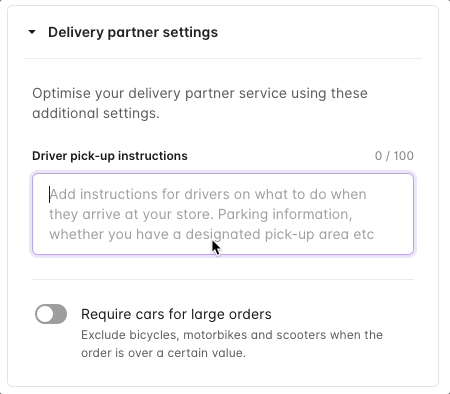 What happens now?
Each time a delivery job is created with your chosen delivery partner, the driver will receive your store address along with your pick-up instructions. Really handy, especially for new drivers who haven't picked up from your store before.