Answers to common questions about launching and managing your own loyalty program powered by Bopple.
What is Bopple Loyalty?
Bopple Loyalty is an optional feature of the Bopple platform, allowing customers to earn points when they order with you and redeem those points for reward discounts. All the benefits of a points based loyalty system with zero ongoing management. Customer retention on auto-pilot.
Is this different to Marsello?
Yes it is. Marsello is a third-party loyalty and marketing platform which you can integrate with your online store to provide a similar online customer loyalty experience. If you're looking for a simple, free alternative, Bopple Loyalty is for you.
How many points do customers earn?
Our out-of-the-box program is ready to go, and is structured based on some simple principles that strike a balance between delivering value and driving more revenue. Customers earn 10 points for every $1.00 they spend.
Can I change how many points customers earn?
At present, it's not possible to amend the structure of the loyalty system, but we'd love to hear your feedback on this as we consider future updates to the loyalty feature.
When can customers redeem rewards?
Customers unlock rewards based on the rewards ladder and their points balance. The ladder is structured so that customers earn back 10% of whatever they've spent in the form of a reward discount.
500 points ($50 spend) ➞ $5 off reward unlocked
1,000 points ($100 spend) ➞ $10 off reward unlocked
2,000 points ($200 spend) ➞ $20 off reward unlocked
5,000 points ($500 spend) ➞ $50 off reward unlocked
Does everyone start on zero points?
Yes. If you have an existing program you want to transition from, best to let any customers "run out" whatever points/stamps they might currently have and direct them to start afresh on your new program.
Are there any other ways that customers can earn points?
Bopple Loyalty just awards points per dollar spent at this time. Nice and simple. In the future we'll look to add opportunities to surprise and delight loyal customers with bonus points for other milestones, but not just yet.
Where can customers see their points and rewards?
Your loyalty program is available everywhere to your customers, whether they are ordering via your QR code, at home on the desktop in the browser, or in a mobile app powered by Bopple. You'll be able to send customers directly to your store loyalty page, and they'll also see their points and rewards any time they reach the checkout.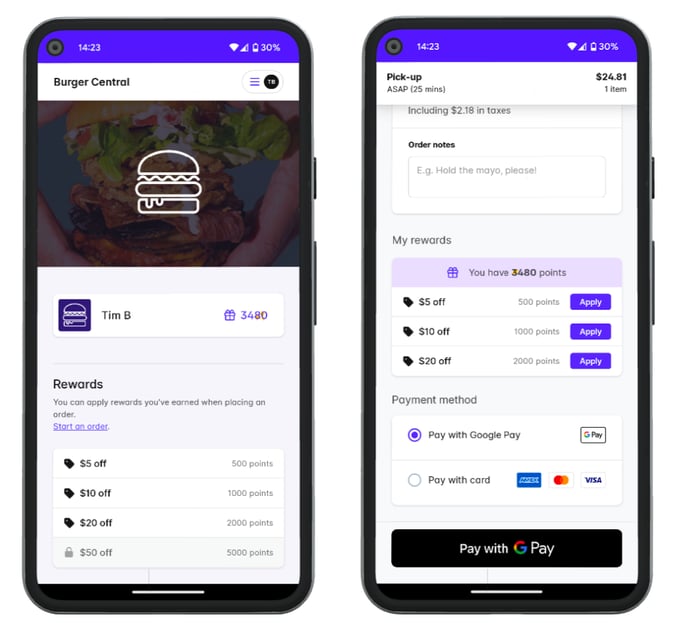 I want to replace my printed punch cards. Do you have a punch card system?
This free loyalty program is a points-based system. On request, we can set your program up so that reward discounts only apply to certain products or categories (eg. coffees). Customers will still earn points for each dollar they spend.
Does it work in my point-of-sale?
This free loyalty program is online-only, and is a great way to encourage more of your regulars to order via QR code when dining-in, or via your online store or a Bopple-powered mobile app when they are ordering ahead for pick-up or delivery.