Smart Order Batching is now available. Register here for early access.

Order Batching is the process of combining orders from the same group sitting at the same table into one order. This means the kitchen or bar only has to handle one docket per group, rather than one docket per customer, and allows you to serve the group at the same time so they can enjoy their food and drinks together.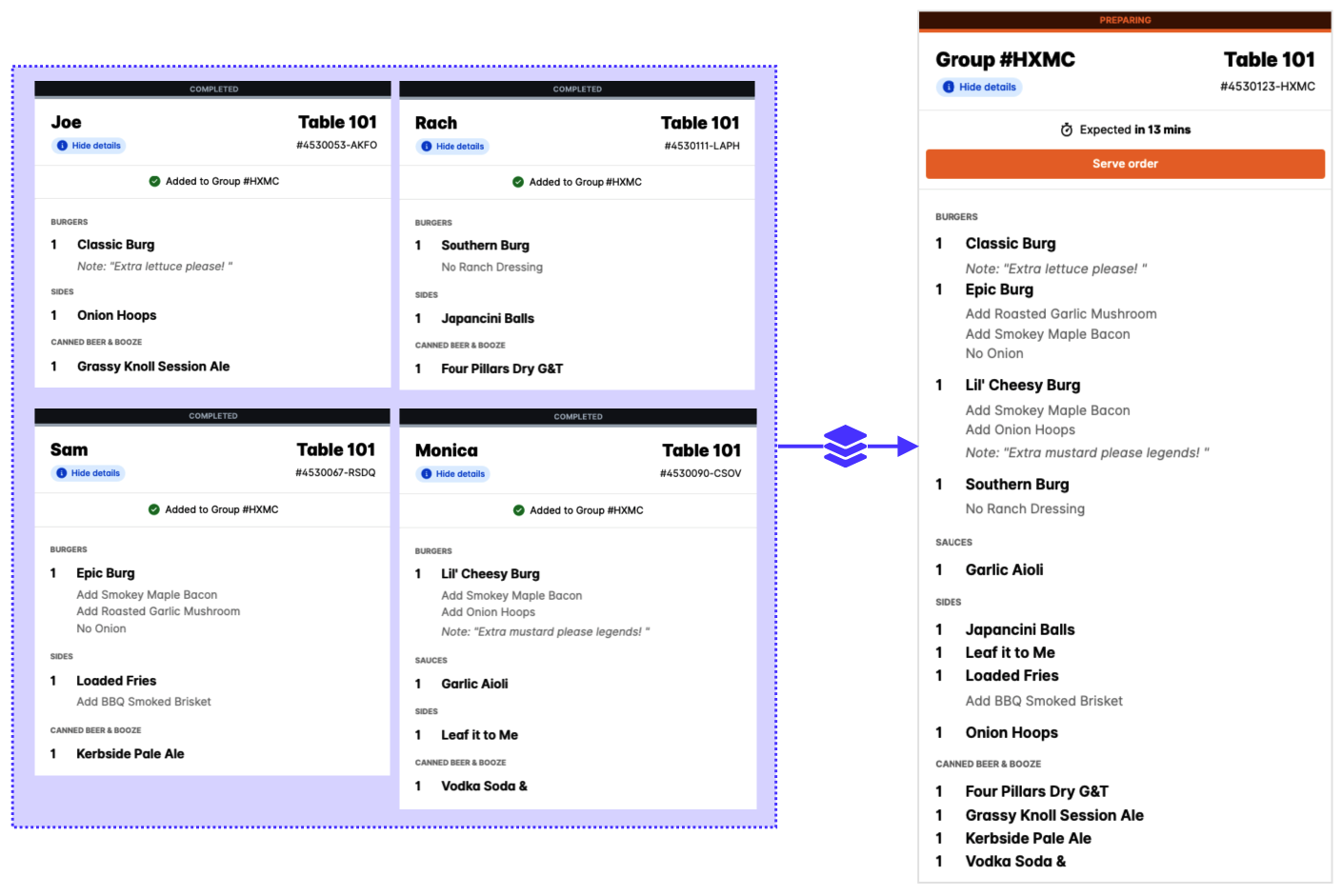 We just made it smarter.
Rather than making you guess what timings would work best to determine when orders are or aren't batched, or expecting customers to click a button to say they are in a group, we've built things so they just work, without any extra effort.
Active Cart Detection 😎
Smart Batching happens dynamically based on the interactions the group is having with your digital menu. Thanks to our Active Cart Detection system, the delay on when the group order is sent is entirely flexible and dynamic based on customer activity on the table.
If everyone on the table orders quickly, the system will know it doesn't need to wait any longer than needed and will send the group order.

If it's a bigger table or customers are placing larger orders, the system can dynamically wait a little longer before sending the group order.
---
How it works.
Customers sit at a table, scan your QR code and start ordering. Active cart detection continuously monitors cart activity on the table.
Orders placed at the table are held, waiting to be batched together as a group order.
Once all the customers have finished ordering or the maximum 5 minute hold has elapsed, all the orders on the table are batched and sent as a group order to your Orders Manager or point-of-sale.
---
How to set it up.
There's literally no setup required other than turning it on. At present one of our team will need to do this for you.
Register here for early access and one we'll get in touch to help get you setup.
---

Frequently asked questions.
Does it work with my POS?
Sure does! Whether you're using Lightspeed Kounta or Square, or if you're simply using Bopple Orders Manager, this feature will work for you. You manage the group order like any other order, and this includes whatever printer behaviour you use.
Won't there be delays if someone adds items to their cart but doesn't order?
Nope! Active Cart Detection constantly monitors activity on carts, so if someone has decided not to continue with their order it will intelligently ignore their cart and allow the group order to be sent without a delay👌
Do you really know if a cart is active?
Absolutely! As soon as the customer scans your QR code an active cart is assigned to that table number. Any time the customer adds items, removes items, or moves between the menu and checkout, the system knows they are still actively ordering.
If there is no cart activity for 1 minute, the system considers the cart inactive so it does not hold up the group order.
Will group orders for large tables be delayed if customer orders are staggered?
Nope! The system knows that there might be circumstances where continuing to wait will cause an undesirable delay on the group order being sent to you.
It will only wait a maximum of 5 minutes from the time the first customer on the table places their order. Any customers ordering after this will go into a separate group order for the table.
What if there's only one person at the table?
No worries! The customer can order as normal, and the system will recognise there aren't any other customers ordering so the order will be submitted as usual. No penalties for dining solo!
What if I need to refund an order?
You can refund a whole group order in your point-of-sale or Bopple Orders Manager. This will process refunds to all customers in the group order.
If you want to refund an individual customer who's order was part of a group, you can easily access their order in the Completed Orders section of Bopple Orders Manager. You cannot do this in your POS - it only has the group order.