This article outlines the steps you need to take in order to connect your Stripe account in Venue Manager.
🗒️ Stripe is a globally-trusted payment gateway to make payouts fast and effortless.
To set up your Stripe account within Venue Manager:
Select Connect with Stripe from the Launch Checklist on the lefthand side.


Select Connect

Creating a new account?

Enter your preferred email

Or connecting one already created?

Enter the required email
Follow the prompts to complete and connect your Stripe Account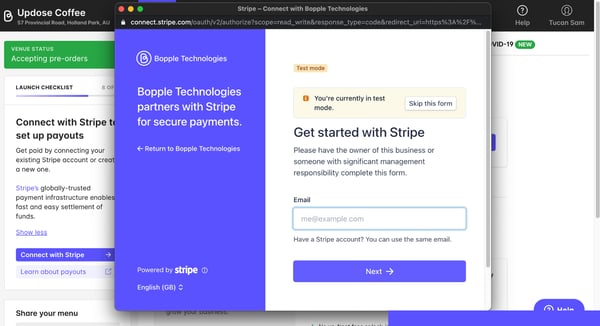 ⚡ Enter as much information regarding your entity that you have. This will help your account be processed faster and get you ready for payouts.
🗒️ Once you have connected your Stripe account this will be made clear to you in Billing. Learn more about payouts here.