Pass-Thru Printing gives you the option to send dine-in, pick-up and delivery orders straight to the kitchen, bar or barista without needing to manually accept each order.
How it works
Once enabled, certain actions on online orders will be automated and/or skipped in your point-of-sale to reduce the amount of manual actions required by staff. The order processing experience does vary slightly by order type, so take a look below.
| | | | |
| --- | --- | --- | --- |
| | Accept + Print | Ready | Complete |
| Dine-in | ✅ Auto | N/A | ☑️ Auto |
| Pick-up | ✅ Auto | 👆 Manual | 🎛️ POS Settings |
| Delivery | ✅ Auto | 👆 Manual | 🎛️ POS Settings |

How to set it up
1. Enable the feature in Lightspeed
Go to Lightpeed Back Office → Features → Pass-Thru Printing
Click Enable
Assign your preferred default register for Pass-Thru
The register you assign for pass-thru must remain active and online at all times, or pass-thru will not work (you'll have to manually accept orders once the POS is back online/active).
2. Enable the feature in your Bopple integration settings
Go to Bopple Back Office → Store settings → Integrations
Click Configure on your Lightspeed Kounta connection
Open the Pass-Thru Printing panel
Toggle PTP on for your chosen order types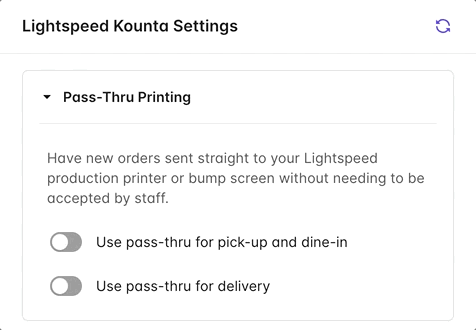 What if orders aren't printing automatically

Have you enabled Pass-Thru properly?
This feature needs to be enabled in Lightspeed Back Office AND in the settings of your Bopple-powered online store. If you have not enabled and configured the feature on both sides it will not work.

Is your assigned pass-thru register online and active?
Your assigned pass-thru register must be online and have the Lightspeed app open at all times in order for this feature to work as expected.
For guided troubleshooting, please see ➞ Resolving POS offline issues