You can quickly and easily mark products and modifiers as out-of-stock if you sell out or are temporarily unable to sell it. This can be done via Orders Manager (even if you are managing orders in your integrated point-of-sale), or via Back Office.
When marking products as out-of-stock, you can also use our Auto Restock option to automatically move the product back to in-stock the following day.
Using Orders Manager
Go to Orders Manager → ☰ (menu) → Product Availability
Select the menu category in the category list on the left
Tap the product you need to mark as out of stock
In the modal that appears, toggle In Stock to off
Optionally, you can enable Restock tomorrow


👉 Managing modifiers: This can only be done in Back Office at present. See below.
Using Bopple Back Office
Go to Back Office → Menu → Inventory
Use the tabs at the top of the page to view Products or Modifiers
Search or filter the list as needed, and then use the In Stock setting to mark the item as
You can update items one by one, or use the checkboxes in the list to bulk update.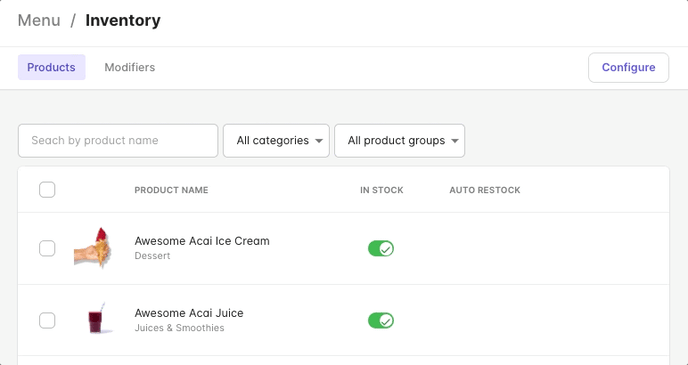 👉 Auto restocks: Not available for use on modifiers at this time.
Additional inventory controls
Did you know you can also use Stock Counts to automatically limit sales of products in your online menu. Check out our other guide on how to enable and manage stock counts.