Fulfil local delivery orders placed through your own app or web storefront with Uber Direct.
Uber Direct, now available ✨
If you'd like to get started with this new delivery partner option, register your interest below and someone will be in touch.

What is Uber Direct?
Uber Direct is a white-label delivery service provided by Uber, allowing you to take orders through your own delivery sales channel with Bopple and have deliveries fulfilled by the Uber rider and driver network. It is the Uber equivalent of DoorDash Drive.
How is this different to Uber Eats?
With Uber Direct, customers order directly with you via your online store or mobile app, rather than ordering via the Uber Eats marketplace apps. Your in-store experience will be the same with orders being picked up and delivered by drivers and riders from the Uber delivery network.
Is it available in my area?
At present, Bopple merchants in Australia can access Uber Direct anywhere that Uber Eats is available. If you're in New Zealand, don't worry - Uber Direct with Bopple should be available by September 2023.
Why offer direct delivery?
Direct delivery offers a number of benefits which we talk about in our recent blog post, The Direct Delivery Advantage: Why It Pays to Prioritise Your Own Sales Channel.
Reduced delivery costs for your business
Transparent menu pricing for your customers
Grow and retain your own customer relationships
Take control of your destiny, without being reliant on delivery marketplaces
How much does it cost?
Uber will charge you a simple fee for each delivery, which is made up of a base fee plus a distance fee:
Base fee of $10 (excluding GST) will be charged for each delivery.
Distance fee of $1.10 (excluding GST) will be charged per kilometre. This is based on the estimated distance between the pickup location and drop-off location and includes partial kilometres on a prorated basis.
Can I pass on the delivery costs?
You're in full control of your margins. You can choose to bear the costs or pass them on to your customers using a delivery fee at checkout. You can set a fixed delivery fee for customers, or charge fees dynamically based on the delivery partner fee. Learn more about charging delivery fees on customer orders.
Do I need an Uber Direct account?
Yes. During onboarding you will be set up with your own account for Uber Direct, with access to the Uber Direct Dashboard to manage your billing, users and more. This is different to what you would have experienced if you've used DoorDash Drive with Bopple.
How does it work?
It's a simple process for you and your customer.
Customer places delivery order via your app or online store
You receive and accept the order in your POS or Orders Manager
The delivery is sent to Uber Direct who assigns a driver to deliver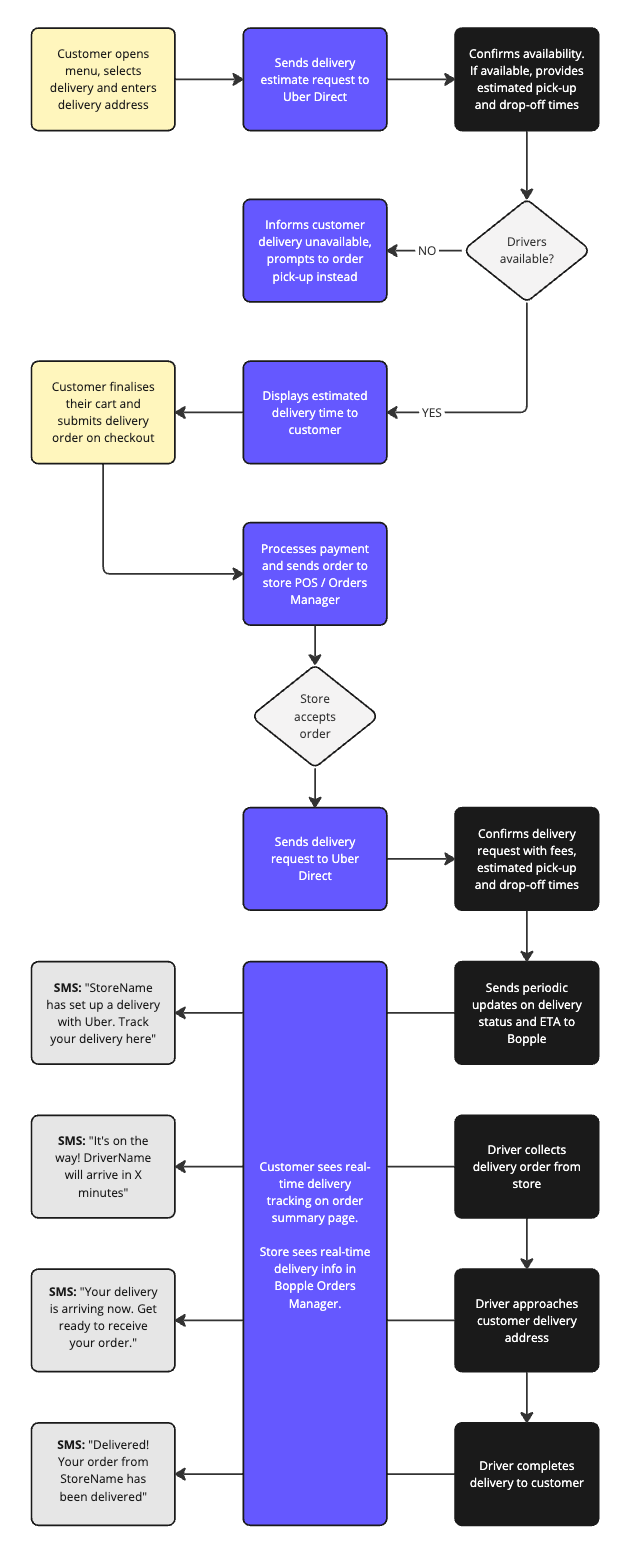 Features of the Bopple x Uber Direct integration
Fully featured to handle all the needs of your business:
Store pick-up instructions: Add helpful instructions to ensure Uber drivers know exactly how to find you, where to park and how to collect orders.
ASAP or scheduled: You have the freedom to let customers order however works best for your business, whether that is ASAP "on-demand" only, or if you offer pre-orders or advanced scheduling on orders.
Driver tracking and contact: The customer facing order summary in your app or online store is fully equipped with a live display showing driver status and location on a map. While the delivery is in-progress, the customer can call the driver directly to ensure the drop-off is seamless.
SMS alerts: Uber provides detailed, real-time SMS updates to the customer throughout the delivery process, so the customer knows exactly when the order is leaving your store, when the driver is approaching their address, and when their delivery has been completed.
Drop-off instructions: Customers can specify whether they want the order handed to them or left outside their door, and provide additional details on how and where to deliver the order.
Contactless delivery: Option for your customers to specify they want their order left outside their door for contactless delivery (not allowed on orders that include alcohol or any other items that require delivery verification).
ID verification for 18+: Orders including products you have marked as alcohol will automatically trigger the driver to hand the delivery to the customer after verifying their ID. Customers cannot select "leave at door" when ordering alcohol.
How do I get started?
Uber Direct, now available ✨
If you'd like to get started with this new delivery partner option, register your interest below and someone will be in touch.