Promote your online store, no app required.
Bopple allows customers to send you orders from the web through any browser (desktop or mobile), and from our apps on iOS and Android.
We recommend you promote the web experience to your customers as this is a more streamlined experience with less friction.
New customer using Bopple Web
Go DIRECT to your venue menu (see below for info on getting your unique URL)
Add items to order
Create account / sign-up
Pay and submit an order
The above process skips the steps of searching for and installing the app from the App Store or Google Play and then searching for your venue listing. We will continue to promote the iOS and Android apps in other communications, so customers can feel free to switch over (using the same account) if they wish
Your unique venue menu link
Every venue listing has its own unique URL that you can share in different ways. Give this link to your customers and followers so they can go directly to your menu and immediately start building their order.
Where do I get my venue link?
You can find your unique link by signing in to my.bopple.com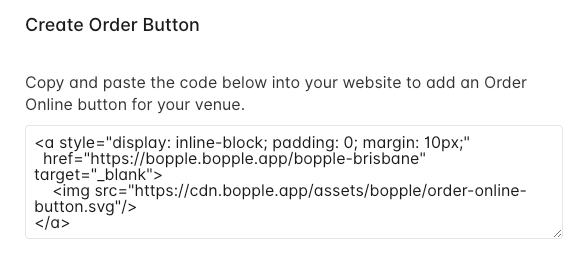 Places to share your online store:
Anywhere your customers or potential customers are likely to see it!
As the website in your Facebook and Instagram profiles (if you don't have a website)
Captions and tag lines
We sometimes like to use big words to make ourselves sound more photosynthesis.
However, when it comes to image captions on social media we've found that the best results have been short and sharp. Below we've provided some Instagram and Facebook caption ideas to help announce you're now on Bopple.
Remember links aren't clickable in your Instagram posts, so consider adding the link to your bio.
Helping you jump the queue.
Order what you want, when you want it with Bopple. Order now at [your unique menu link]
Order ahead. Jump the line.
Pre-order and pay, so you can get on with your day. Order now at [your unique menu link]
Never wait again. Order with a tap.
Save time and jump the line with Bopple. Simply select, order and collect.Order now at [your unique menu link]
No wait. No fees.
Bopple helps you jump the queue. Get coffee and food when you want it. Order ahead with Bopple today at [your unique menu link]
Pre-order and pay so you can get on with your day.
Save time and jump the line with Bopple. Use Bopple for free atOrder now at [your unique menu link]
Encourage sharing
You've launched Bopple! Post an announcement to let everyone know.
Use our Bopple signage and marketing material in your shots – pick-up sign, stickers, posters
Shoot a short video clip of someone using the app/website
Screenshot your venue in the app/website
Include special offers to encourage people to try the new ordering experience (how to create a discount/promo code)
Images ready to share on social media
Check out our ready-to-go Bopple content here
Tag us so we can like and share
You should hit us up! Mention us on Instagram when you post by tagging our account @bopple.app. Customers might find the info on our page useful in understanding more about the service and how they can use it at your venue.
Hashtags also help people discover your content. Copy and paste these tags as a comment after you post:
#bopple #boppleapp #weareonbopple #coffee #melbourne #sydney #brisbane #perth #coffeetime #cafe #melbournecafe #sydneycafe #brisbanecafe #coffeebeans #coffeeaddict #coffeebreak #coffeelovers #coffeeoclock #beans #coffeegram #latte #foodie #food #morningcoffee #specialtycoffee #breakfast #lunch