Orders Manager is your powerful sidekick for managing live service, from orders, to prep times to product availability and more.
Video walkthrough
Learn all the basics of the Orders Manager in this 3min video.

Open or Install the Orders Manager
You can use Bopple Orders Manager on any device.
In the mobile app, you need to use your store login. If you're a company admin, open the Orders Manager from any of your stores in Back Office via Shortcuts ➞ Orders Manager



Managing orders
All businesses can manage their orders in the Orders Manager. Status changes on orders in the OM will update the order in the Bopple system, and on the customer-facing order summary screen.
If you're using an integrated point-of-sale, we recommend that you always have the Orders Manager accessable in case of any situations where your POS fails to receive online orders. You can always use the OM to manage orders, but it won't change the status of orders in your POS.



Accepting new orders
New orders will notify with a sound and a flashing screen
Mark the order as Accepted, optionally adjusting the order prep time
If you're not able to fulfil the order, you can mark the order as Rejected and refund it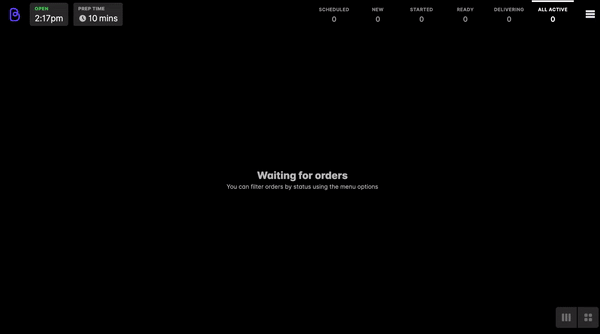 Progressing orders
Pick-up orders can be marked as Ready, which will notify the customer
In-House delivery orders can be marked as Dispatched, which will notify the customer
Third-Party delivery orders can be marked as Ready for driver
Dine-in orders can be marked as Served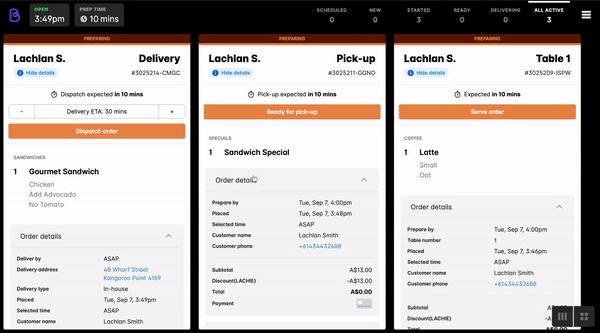 Closing orders
Pick-up orders can be marked as Collected
In-House Delivery orders can be marked as Delivered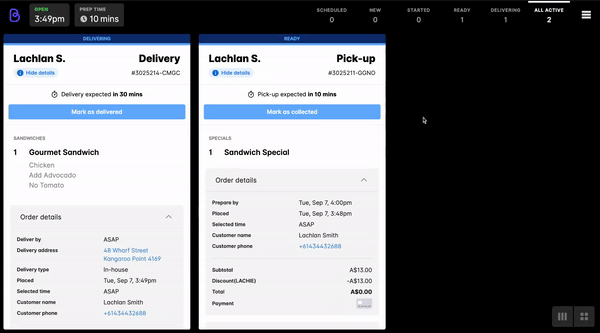 Other features of Orders Manager
Quickly adjust your prep time using the prep indicator in the top bar (if you use Lightspeed, you need to manage your prep time in Lightspeed)
Temporarily close service using the status indicator in the top bar
Customise order alert notifications you receive via menu ☰ ➞ Settings
Get help with order issues by tapping I have an issue with this order
See real-time third-party driver statuses and arrival times ➞ more info
View and refund closed orders via menu ☰ ➞ Closed orders
Manage item stock availability quickly via menu ☰ ➞ Product availability
Use a bluetooth printer for order dockets ➞ more info